2019 Kia Optima Walk Around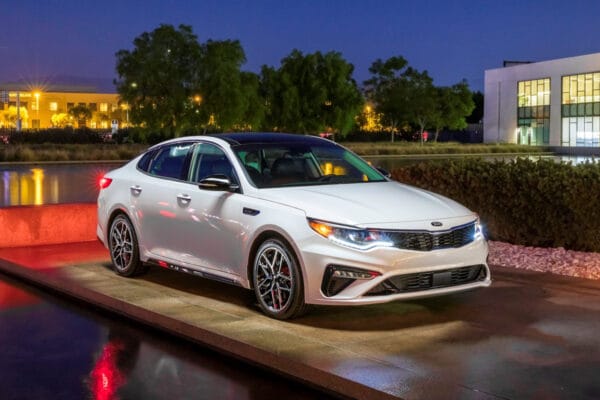 The Optima's handsome four-door design has worked well enough since 2016 that Kia has passed the look over to the sporty mid-size Stinger, and down to the compact Forte.
The coupe-like roofline that kicks up at the rear pillar sets the style for the rest of the car. Sculpted fenders are on the same page as the wide oval grille. By its profile, the Optima can easily be mistaken for a BMW.
The Hybrid and Plug-In Hybrid are almost indistinguishable to the eye, with only small badge and trim differences.
Interior
The dashboard has hints of flair, and doesn't wrap as much as some full-size sedans, so it feels less like a cockpit for the driver. The LX comes with cloth upholstery and metallic trim consistent with its entry-level status. The SX gets some luxury touches, namely more sound insulation, lovely detailed stitching on its leather seats, and gloss black trim.
There are three infotainment systems. The LX gets Uvo Play, with Apple CarPlay, Android Auto, and a USB port. The S and EX get Uvo Link, which adds some apps that work with a smartphone, such as vehicle diagnostics, speed alerts, and geo-fencing. Uvo Link with Navigation adds maps with fine resolution.
In the front seats, passengers get deep bolsters and good cushioning for long legs and wide hips. The diamond-quilted seats on the SX look like over-the-top luxury.
In the rear, the sloping roofline steals some headroom; 6-footers will feel their heads brushing the headliner. But it's wide enough for three, and the wide rear doors make entry and exit easy.
The trunk's 15.9 cubic feet is about average for a full-size car, however the rear seatbacks fold to open the back of the car to the trunk, something we wish all sedans did.
On the Hybrids, the batteries nibble at cargo space. Hybrid sedans have 13.4 cubic feet of trunk space, while the Plug-In Hybrid has only 9.8 cubic feet.