2019 Kia Niro Driving Impressions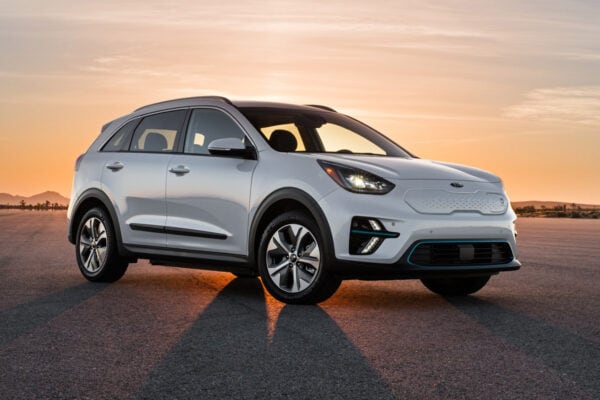 Kia says the FE, LX and EX models can accelerate from 0-60 mph in 8.6 seconds, while the S Touring and Touring models take 9.6 seconds because they're nearly 100 pounds heavier.
Even with an aluminum hood, liftgate, and suspension bits, the Niro weighs 3,200 pounds—a lot for the Niro's combined 139 horsepower. The Niro's electric motor is just 43 horsepower, so the 1.6-liter gas engine has to do the vast majority of the work.
The Plug-In Hybrid makes the same 139 horsepower, although the plug-in has a bigger electric motor (60 hp vs. 43 hp), as well as a bigger lithium-ion battery (8.9 kwh vs 1.56 kwh).
In all-electric mode, the Plug-In Hybrid has a range of 26 miles, if you're very easy on the throttle, and the road is level. It's most useful for parking lots. It can gently accelerate to highway speeds, but the engine joins the powertrain going uphill or accelerating medium.
A drive mode switches between Eco and Sport, with big differences. Sport is significantly quicker but uses battery power up quickly; Eco saves money but it's slower.
Sport mode is engaged when the driver pulls the shift lever to the left, almost like a downshift. The car comes alive, and easily keeps up with fast traffic on the freeway. The Sport mode enables sharper throttle response and transmission shifts.
As for handling, the Niro is drama-free. There is predictable body lean, as it's a relatively heavy car with light steering. But its low center of gravity help it handle and hold the road well.
The transmission is quick, decisive and engaging in Sport mode. Kia chose a dual-clutch transmission, rather than a continuously variable transmission. The dual-clutch transmission uses gears like a manual transmission, but feels like an automatic, and can be manually shifted more sharply than a CVT.