2019 Kia Forte Walk Around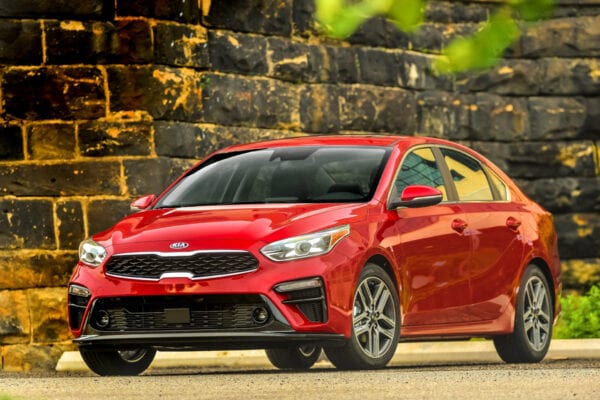 The sharp full-size Stinger was well received, so why not make the new compact Forte like it, with crisp, contemporary sheetmetal?
That's what Kia has done. Designers pushed the Forte windshield back by five inches; the rear deck has been trimmed by the same amount. The radical change doesn't jump out at you, until the new Forte is parked beside the old one. Then, you can also see the added three inches in length, also revealed in cabin space.
The new design clearly brings a sportier look–long hood and short deck–at least with the 16- or 17-inch alloy wheels most models. The base FE has 15-inch steel wheels with plastic hubcaps.
Interior
Thicker windows on higher trims and insulation over the CVT help the cabin of the new Forte to be 5 decibels quieter than before. Overall, the interior feels upscale, with soft-touch plastics. The round air vents are stylish, with a matte silver finish on some trim levels.
The Forte's instrument panel features a large 8.0-inch touchscreen that's perched high on the dash; its controls are well integrated, simple and easy to control–one rotary volume knob and one tuning knob–while the screen's display is clear and intuitive. Like many good things with new Forte, the screen's layout is a carryover from the old Forte.
The front seats are comfortable for long trips thanks to progressive seat foam designed to counter fatigue. Both front seats are height-adjustable, another rarity in the class. Six-way manual adjustment for the driver's seat is standard, while the EX has 10-way power adjustment.
The spacious interior allows a 6-foot passenger to be comfortable in the rear, behind a 6-foot driver. The increased size, 3.2 inches longer and 0.8 inches wider, adds a couple inches of rear legroom. The trunk has 15.3 cubic feet of space, more than most compact sedans.