2018 Kia Soul Walk Around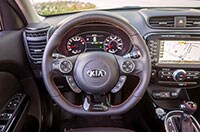 The Soul is as physically perky (if you see it that way) as it's always been, but that seems like a long time now, so it's not so fresh any more. It's still fun to look at. It puts a splash of spirit into the sameness of the highway. Crossovers that all look the same, blah blah boring. The Soul steps out of that.
The proportions are right, as the sharp angles on the chunky sheetmetal work with the roofline. The windshield pillars are abrupt while leaning back a bit, keeping the profile from being too square, although it's still square.
The Soul needs the body-colored trim in the Plus and Exclaim models, to smooth the lines and enhance the shape. There is a shape, and it's distinctive.
Interior
For a compact hatchback, the Soul becomes a compact cargo van. There's 24.2 cubic feet of space behind the rear seats, and with them folded there's a vast 61.3 cubic feet. The Soul might not be svelte, but the shape scores at swallowing bicycles.
And there is an amazing 39 inches of rear seat legroom, more than many midsize crossovers. The Plus and Exclaim have a folding center armrest in the rear, so we're talking four adults in comfort.
There's a black sea of plastic in the dash, with chrome and glossy trim. What a missed opportunity to make Soul special. There are some soft materials and upscale touches, such as the steering wheel and gauges that the driver looks down on, because the instrument panel is low.
The centerstack with its controls is canted toward the driver. Speakers sit on top of vents at the edges of the dash. They can be made to throb to the music, in fluorescent blood red.
The seats are firm and supportive, but a tall driver might find himself oe herself sitting too high, with his or her thighs running out of support.
It's safe to say that Kia didn't go whole hog on the sound deadening. The turbocharged engine noise breaks into the cabin and howls at 4000 rpm, in the Soul! model. The two slower engines are louder.