2018 Kia Sorento Driving Impressions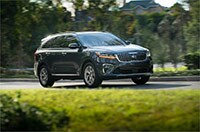 Occupants can expect an impressive sense of solidity, amplified by highly composed handling capabilities. Electric power steering is nicely tuned, allowing faithful tracking on the highway. Brakes modulate easily. As a result, the Sorento delivers an admirably fluid driving feel.
Ride quality is well-controlled, resulting in a quietly poised highway experience, matched by satisfying levels of confidence.
Well-behaved powertrains can deliver frisky acceleration, especially with the turbo engine, marred by just a touch of turbo lag. The turbo works well with Kia's automatic.
A V6 Sorento feels strong when starting from a standstill, followed by undramatic acceleration to road speed. Although the automatic transmission generally shifts smoothly, some "shift shock" may occur with the V6.
Kia's Drive Mode Selector has Eco, Comfort, and Sport modes. Transmission shift points and steering are altered, but the rather sensitive engine throttle is not.
Even though an all-wheel-drive Sorento is no hardened off-road machine, 7.3-inch ground clearance permits a fair amount of potential after the pavement ends. A lockable differential keeps front/rear power split at 50/50. Electronic torque-vectoring can apply brakes as needed to help the Sorento steer more accurately.
Fuel economy is reasonably good, though not exactly frugal. With front-drive and the 2.4-liter engine, the Sorento is EPA-rated at 21/28 mpg City/Highway, or 24 mpg Combined. Turbo power is EPA-rated at 20/27 mpg City/Highway, or 23 mpg Combined, with front-wheel drive. All-wheel drive drops the estimate to 19/27/22 mpg.
With the V6, an all-wheel-drive Sorento is EPA-rated at only 17/23 mpg City/Highway, or 19 mpg Combined. A front-drive V6 manages 18/25/20 mpg.