2018 Kia Niro Walk Around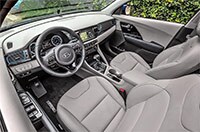 Kia calls the Niro a crossover because it looks like a crossover. It feels more substantial than a compact hatch. It has big wheel arches with black flares, a thick cowl, rocker-panel cladding, roof rails, and a rear skid plate that makes it resemble a Jeep Cherokee from the rear. There's no obvious styling effort to mark it as a hybrid, no visible attempt to look aerodynamic or eco. But in fact the Niro is very aerodynamic, with the drag coefficient being a low 0.29.
The low nose and wide sweeping hood conceal a long front overhang. It's lower than the Kia Sportage crossover, while its lines are smoother and rounder than those on the Kia Soul.
A small flash of blue trim around the front parking lights distinguishes the PHEV (Plug-in Hybrid Electric Vehicle) versions.
Interior
The quality of the cabin materials is good, and the surfaces are soft. The instrumentation is simple and basic, with big white-on-black gauges, and glossy black trim on higher models. The dash panel doesn't try to impress you. There are no gauges that give any clue to its being a hybrid, except for a big green leaf on the panel.
With seat frames that came out of the near-luxury Optima sedan, the front seating position is high, reducing headroom; but it's still not as high as in the Soul or Sportage, which have taller rooflines.
The cabin is wide and feels it. There's comfortable room for four people, and enough elbow room for five no problem. But maybe not headroom. The rear seatbacks are already canted, not upright, so the passengers' heads don't scrape the ceiling.
The cargo floor is low and flat, because the battery is under the rear seat, and because there's no four-wheel-drive components to make room for.
There's less cargo space than in the Soul or Sportage: 19.4 cubic feet with the rear seat up, and 54.5 cubic feet with it down, not quite flat. But we found that it squashed down flat when we put weight on it. The cargo capacity is a lot less than the Prius v, with its 67.3 cubic feet.
Kia put a lot of effort into insulating the body structure and isolating engine noise, and it shows. When you floor it and the engine howls, the noise stays out of the cabin.