2017 Kia Sportage Driving Impressions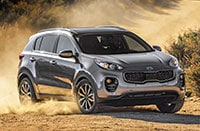 The combination of more mass and fewer ponies is an unlikely formula for improving 0-to-60 mph performance. Kia addressed this issue in the Sportage SX by installing a new turbocharger that reaches maximum boost faster, summoning maximum torque more quickly.
The solution seems to get the new Sportage SX across the intersection smartly when the light turns green, a key element in everyday driving. But as speed builds, the effect diminishes: the engine begins to feel that it's running out of breath, and passing on two-lane highways is something to be approached with care, in anticipation of lengthy exposure times.
Agility-wise, the character of the new Sportage seems to differ from its immediate ancestor. As noted, the generation three SX Turbo drew some criticism for a rather unforgiving ride on patchy pavement. The gen four Sportage features a more compliant setup.
The Sportage SX Turbo models with front-wheel drive and all-wheel drive that we have driven felt exceptionally solid, a tribute to that stiffened structure. Both were smooth operators on the rare stretches of rough going we encountered on mountain roads east of San Diego, and both absorbed freeway expansion joints and truck ruts commendably.
However, neither version exhibited much enthusiasm for decreasing radius turns, switchbacks, or quick transients. Body roll isn't extravagant, but transient response is unhurried, particularly with all-wheel drive, which is substantially, and noticeably, heavier.
The electric power steering has been revised, and is reasonably quick (2.8 turns) and nicely weighted at highway speed, though still lacking a bit in terms of tactile feedback, something it shares with many systems.
Transmission performance is adequate in full automatic mode, although there's a little more up-and-down hunting in hilly going. Responses to commands from the shift paddles are about average, but the transmission seems to want to upshift automatically when demand for power diminishes, regardless of operating mode (Normal, Sport, or Eco).
SX Turbos are equipped with 19-inch wheels (lesser trims have 17- and 18-inchers). The bigger diameter should add up to improved grip. Larger wheels often have a negative impact on ride quality, but we found the Sportage with 19-inch wheels to be supple on all surfaces.
Overall The dynamic bottom line seems to be a Sportage that's not quite as quick on its feet. But it's comfortable, quiet, and composed, a trio of traits that are hard to dislike.