2017 Kia Optima Driving Impressions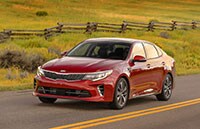 Even though Optimas lack a sporty nature, falling slightly short on spirit, their ride/handling balance ranks among the best in the midsize class. Ride comfort reaches well beyond prior Optimas. Pleasantly compliant when encountering minor bumps and holes, the Optima suffers little bounciness when pavement flaws grow harsher.
Especially in SX or SXL trim, Optimas also stand well above the crowd in handling prowess. Body lean in curves or corners is predictable, Optimas feels adeptly composed, and the brake pedal feels confident.
Kia uses two electric power-steering configurations. SX/SXL models have a rack-mounted setup that provides precise feel when slightly off-center. In lesser trim levels, a column-mounted system yields a good sense of steering-wheel centering.
The Drive Mode Select system alters shift points and gas-pedal sensitivity. Eco mode may induce indecisive shifting, especially with the 1.6T engine, though it delivers gentle takeoffs from a stop.
Most popular engine is the smooth, responsive 2.4-liter. Because peak torque comes at higher engine speed, the transmission will downshift more often. The 2.0-liter turbo is more responsive at lower speed, and its transmission shifts smoothly.
The 1.6-liter turbo generally feels stronger than the 2.4-liter, but the hesitant dual-clutch transmission disappoints. Shifts are smooth when passing, but downshifts are delayed on hilly or curvy terrain. Low-speed parking maneuvers also frustrate.
Fuel economy is good, but not great. In LX trim, the 2.4-liter is EPA-rated at 25/36 mpg City/Highway, or 29 mpg Combined. In EX guise, it's estimated at 24/34/28 mpg.
The 2.0-liter turbo is EPA-rated at 22/31 mpg City/Highway, or 25 mpg Combined. Most frugal is the 1.6-liter, rated at 28/37 mpg City/Highway, or 31 mpg Combined.
For the most miserly driving, the Optima Hybrid is rated at 42 mpg Combined. An Optima Plug-In Hybrid can travel nearly 30 miles on electricity alone.