2017 Kia Niro Driving Impressions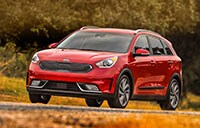 The Niro is far more fun to drive in Sport mode, but that's where the fuel mileage will sink. Eco mode is more frugal, but it's sluggish. The Eco mode is uncomfortable because it prevents the transmission from kicking down for acceleration.
The Niro snaps into Sport mode as the driver pulls the shift lever to the left, almost like a downshift. The car comes alive, and easily keeps up with fast traffic on the freeway. The Sport mode enables sharper throttle response and transmission shifts; and supposedly sharper steering too, although we couldn't feel much difference in turn-in quickness or weight in the steering wheel.
Kia chose a dual-clutch transmission, rather than a continuously variable transmission, partly because it wanted the Rio to not feel like a hybrid (but just be one). Mostly, it didn't want the Rio to feel like a Prius. Research has shown that hybrid owners don't much like the characteristics of the CVT that usually comes with hybrids. The dual-clutch transmission uses gears like a manual transmission, but feels like an automatic, and can be manually shifted more sharply than a CVT. Niro doesn't have paddle shifters, so you have to use the lever to shift the transmission in Sport mode. The transmission is quick, decisive and engaging in Sport mode. We found it curious that downshifting in Sport mode does not produce engine braking, especially the regenerative variety.
The brake pedal was a bit spongy, and the travel was long, but the blending of regenerative braking with friction braking was seamless.
One novel feature, called the coasting guide, tells the driver the most energy-efficient time to coast and brake. Predictive Energy Control looks at the route set by the navigation system, and comes up with a plan to spare the throttle and raise the fuel mileage on the trip, then instructs you step-by-step on a screen how to achieve that goal. Of course it doesn't have eyes, it's based on speed limits and elevation; so what it tells you to do with the gas pedal and brake in real time, assumes you're the only car on the road. But it gives you the right idea.
The Niro sheds pounds with an aluminum hood, liftgate, and suspension bits. Its light weight and low center of gravity largely make the car handle and hold the road well.