2017 Kia Forte Driving Impressions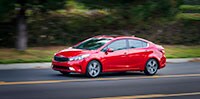 In both handling and performance, the Kia Forte is unremarkable. Failing to stand out, it's reminiscent of several top 1990s compacts.
Its four-cylinder engines rev readily, with little vibration and a perky nature, though they can grow noisy. The larger of the two engines is tuned for a more relaxed road experience. Neither is particularly powerful. Updated for 2017, the automatic transmission delivers sluggish shifts, as if it's making a deliberate, thoughtful choice each time. Not too many buyers are likely to specify the manual gearbox that's standard with LX trim.
Although a Forte falls short of the sportier Ford Focus and Mazda3, Kia's sedan steers and handles well enough. The suspension irons out a certain amount of coarse pavement, but harsh spots can transmit more sound to occupants than is typical nowadays. Body motion is more noticeable than expected.
Some models offer selectable steering boost, with Normal, Sport, and Comfort modes. Sport mode can help the Forte track neatly on highway stretches.
In short, the Forte isn't exactly top-rung in refinement, but it's a capable contender in a crowded market category.
Fuel economy is good, but no better than average for the Forte's class. Thriftiest versions by far are the LX and S with automatic, EPA-rated at 29/38 mpg City/Highway, and 32 mpg Combined. The more powerful EX model is EPA-rated at only 25/38 mpg City/Highway, and 32 mpg Combined.