2017 Kia Cadenza Driving Impressions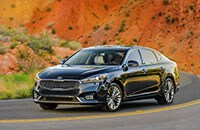 Visually, the 2017 Cadenza might suggest a European sports sedan, but sportiness isn't its forte. A Cadenza isn't as composed on the road as some of its rivals, lacking the crisp responses that several other large sedans can provide.
Instead, Kia has focused strongly on comfort and, especially, refinement. Occupants can expect a gentle ride in a nearly-silent motoring environment, attributes that are helped by the sedan's stiffer structure and a softening of its suspension. The Cadenza can anticipate a relaxed session behind the wheel.
Performance isn't quite a strong suit, largely because the 3.3-liter V6 fails to provide a bounty of torque at lower engine speeds. To elicit satisfying response, the gas pedal needs to be pushed a bit harder than usual. On the plus side, the new 8-speed automatic transmission shifts smoothly and downshifts promptly when needed.
Four drive modes are selectable: Comfort, Eco, Sport, and Smart. Each provides slightly different road behavior, but Comfort typically seems to yield the best result. Steering is on the heavy side normally; but if you choose Sport mode, it becomes heavier yet, inappropriate for a large sedan. Suspension's settings are unaffected by mode choice, but definitely oriented toward comfort. Still, body control bests that of some rival sedans, and brakes are strong.
At highway speeds, wind noise is practically absent and road rumble minimal. Though helped by the 8-speed automatic, fuel economy trails most prominent rivals, EPA-rated at 20/28 mpg City/Highway, or 23 mpg Combined.