2016 Kia Sportage Driving Impressions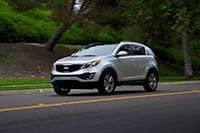 The Kia Sportage does not offer the lowest levels of noise, vibration and harshness, and optional 18-inch wheels make the ride worse.
Kia's multi-mode Flex Steer system lets the driver choose from three possible levels of steering heft, yet fails to improve the overall feel appreciably. Handling, as a whole is less than impressive.
The 6-speed automatic transmission delivers smooth and adequately measured responses but gear changes are slow.
Both engines feel fairly spirited with front-wheel drive, but a bit less so with all-wheel drive. The turbocharged engine in the SX edition yields abundant midrange torque, which is especially noticeable when coming out of a swift corner. All told, the turbo qualifies as a pleasant surprise in a vehicle of this nature.
The throttle is touchy at tip-in — when starting off. This phenomenon can be overcome by engaging the Eco button, which subdues throttle response for improved fuel economy. However, that same button weakens response when it's time to pass or merge.