2016 Kia Sorento Driving Impressions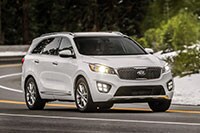 The big news for 2016 is the addition of a 2.0-liter turbocharged four-cylinder engine to fit between the naturally aspirated (non-turbo) four-cylinder and the V6. It has less horsepower but more torque than the V6, and it is excellent on the highway, delivering ready passing punch. From a stop, however, we found that the turbo four was slow to react to throttle application, likely due more to the otherwise smooth-shifting 6-speed automatic transmission than turbo lag.
Other than that minor issue, the turbo four is mostly a match for the V6, though it's not quite as smooth. The price difference between the turbo four and the V6 is as little as $600, so buyers will have to decide if the V6's slightly more willing and smoother power is worth the money and two miles per gallon overall.
Fuel economy for the 2.4-liter engine that comes on Sorento L and Sorento LX models is an EPA-rated 21/29 mpg City/Highway. The new 2.0-liter turbocharged engine offered on Sorento EX and Sorento SX Limited models is rated 20/27 mpg. The 3.3-liter V6 available on Sorento LX, EX, SX and SX Limited is rated 18/26 mpg.
One of the reasons the base engine isn't wise choice is the fact that the Sorento is bigger this year. It grows three inches in length and is slightly wider. The new structure uses 115 percent more high- and ultra-high-strength steel, increasing rigidity by 14 percent. The suspension also gets front and rear H-shaped subframes, and longer control arms. The result is a smooth-riding, well-controlled crossover. That isn't to say that the Sorento is sporty, but it's as pleasant to drive as just about any rival. Kia has traditionally struggled with suspension tuning, but the Sorento's dynamics are now right in line with the class.
All models have electric power steering, but only Sorento SX models get a rack-mounted system, which is the most expensive and provides the most road feel. Few drivers will notice the difference, and we found the steering had a natural feel in any model. A Drive Mode Select button has a Sport mode that adds a bit of heft to the steering (it also holds gears longer) that we prefer, but otherwise the steering is typical of a family crossover: a bit slow but direct.